THE SILBERMANN ORGAN OF THE STADTKIRCHE ZÖBLITZ/ERZGEBIRGE (D)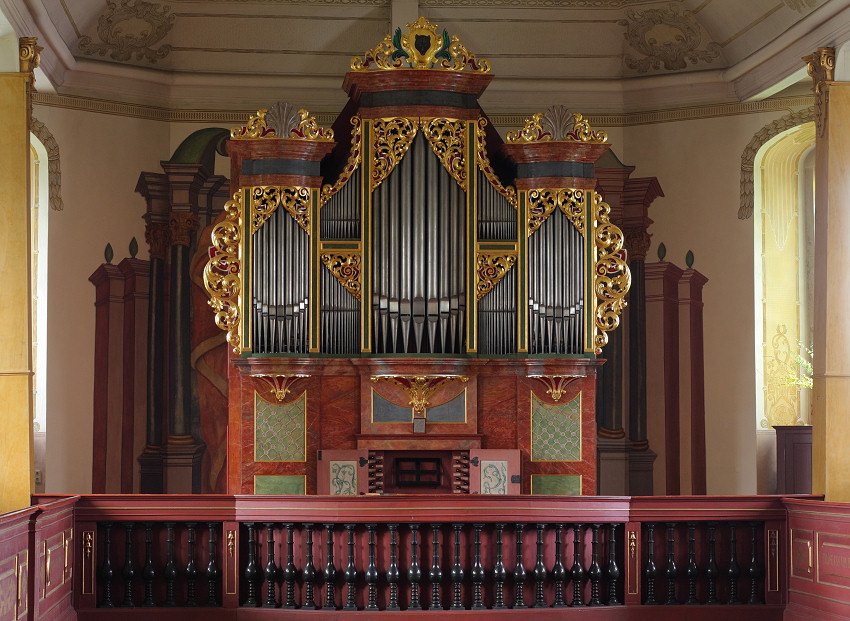 Description:
Gottfried Silbermann (1683 - 1753) is the most prominent Central German organ builder in the baroque period. As Honorary Court and State Organ Builder to the King of Poland and Elector of Saxony he built approximately 45 instruments from one to three manuals. By using elements of French organ building he created a unique sound style.

The two manual organ of the Evangelische Stadtkirche Zöblitz in the Ore Mountains was built by Silbermann in 1742. Hence it belongs to his later works. With 20 stops it is a representative of an instrument type that he realized several times, for example in Freiberg, Fraureuth, Reinhardsgrimma and Forchheim. Thanks to a donation the organ could be carefully restored in 1997 so that nowadays it presents itself in an impressive manner. During the restoration it was also possible to uncover the original coloration of the facade.
Specification:
| | | |
| --- | --- | --- |
| Manual (MA, C-c'''/g'''*) | | |
| | | |
| Principal | 8' | |
| Quintadena | 8' | |
| Rohrflöte | 8' | |
| Octava | 4' | |
| Spitzflöthe | 4' | |
| Quinta | 3' | |
| Octava | 2' | |
| Mixtur | IV | |
| Cornett (c'-c4) | III | |
| | | |
| | | |

| | | |
| --- | --- | --- |
| Oberwerk (OW, C-c'''/g'''*) | | |
| | | |
| Gedackt | 8' | |
| Rohrflöte | 4' | |
| Nassat | 3' | |
| Octava | 2' | |
| Tertia | 1 3/5' | |
| Quinta | 1 1/2' | |
| Sufflet | 1' | |
| Cimbel | II | |
| | | |
| | | |
| | | |

| | | |
| --- | --- | --- |
| Pedal (PD, C-c'/f'*) | | |
| | | |
| Subbass | 16' | |
| Octavbass | 8' | |
| Posaunenbass | 16' | |
| | | |
| Tremulant | | |
| | | |
| Koppel MA-PD | | |
| Koppel OW-MA | | |
| Koppel OW-PD* | | |
| | | |
| | | |

* Extensions of the 'premium' virtual organ
Temperament: Workshop book Orgelbau Rühle
Tuning : f(a')=465 Hz
About this virtual organ:



The virtual Zöblitz organ is available in two versions:

The two-channel standard version that is based on the original instrument with regard to range (49 manual and 25 pedal keys) and couplers (MA-PD and OW-MA).

The four-channel premium version is additionally equipped with faders for direct sound and ambience that can be used to adjust the listening position (see below), an extended range (56 manual and 30 pedal keys) and an additional coupler (OW-PD).

Recordings have been made in 24bit/96kHz using Schoeps CMC6 xt microphones and high end RME Preamps. Processing has been done at the Lab Six sound&media solutions studio in Heilbronn, Germany (www.labsix.de) with the MLP© (multi layer processing) system develped by PROSPECTUM. Mastering and monitoring has been done on Adam Audio S2.5A speakers.




Highlights of this virtual organ:

A carefully restored Gottfried Silbermann organ from 1742
Size: Two manuals + pedal, 20 stops
Range: Manuals from C to c'''/g''' (49/56 keys), pedal from C to c'/f' (25/30 keys)
Sample quality: 24bit/48kHz; processed with our MLP© system (detailed/transparent sound and an outstanding signal noise ratio)
Recorded with the natural reverb of the Stadtkirche (about 2s)
4-channel premium version: 2 additional ambience channels
Separate release samples were recorded for short notes
Comes with action noises for all stops, keys etc. in MLP© quality
Comes with a separate tremulant sample for each pipe. These samples were processed with our TremulantTemplate© procedure
Comes with the current original temperament (kindly provided by Rühle Orgelbau)
Panoramas:
Pictures/Videos:
Graphical User Interface:
Sound demonstration:
| | | |
| --- | --- | --- |
| | | 4 channels (ratio 100:80) - J.S. Bach - Praeludium et Fuga C-Dur (BWV 531) |
| | | 4 channels (ratio 100:80) - J.S. Bach - Choral 'Vater unser im Himmelreich' (BWV 737) |
| | | 4 channels (ratio 100:80) - J.S. Bach - Fantasia et Imitatio b-Moll (BWV 563) |
| | | 4 channels (ratio 100:80) - J.S. Bach - Choral 'Christe der du bist der helle Tag' (BWV 1096) |
| | | 4 channels (ratio 100:80) - J.S. Bach - Choral 'Wie schon leuchtet uns der Morgenstern' (BWV 739) |
| | | 4 channels (ratio 100:80) - J.S. Bach - Partita 'Ach, was soll ich Sünder machen' (BWV 770) |
Requirements:
Hauptwerk version: 4.0 or later
RAM: 1.53 GB @ 2 Kanäle dry (150 ms)/16bit
RAM: 2.72 GB @ 2 Kanäle dry (150 ms)/24bit
RAM: 2.35 GB @ 2 Kanäle/16bit
RAM: 4.35 GB @ 2 Kanäle/24bit
RAM: 4.37 GB @ 4 Kanäle/16bit
RAM: 8.32 GB @ 4 Kanäle/24bit
Latest version: 1.02



License agreement: [READ]